You are here
Back to top
American Hookup: The New Culture of Sex on Campus (Paperback)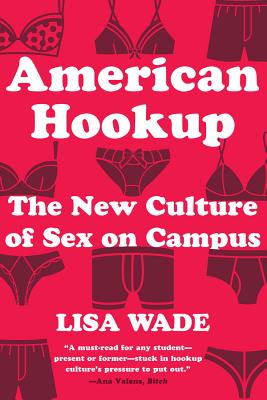 Description
---
"A must-read for any student—present or former—stuck in hookup culture's pressure to put out." —Ana Valens, Bitch
Offering invaluable insights for students, parents, and educators, Lisa Wade analyzes the mixed messages of hookup culture on today's college campuses within the history of sexuality, the evolution of higher education, and the unfinished feminist revolution. She draws on broad, original, insightful research to explore a challenging emotional landscape, full of opportunities for self-definition but also the risks of isolation, unequal pleasure, competition for status, and sexual violence.
Accessible and open-minded, compassionate and honest, American Hookup explains where we are and how we got here, asking, "Where do we go from here?"
About the Author
---
Lisa Wade is a professor at Tulane University with appointments in Sociology, the Gender and Sexuality Studies Program, and the Newcomb Institute. An accomplished scholar, award-winning teacher, and public sociologist, she is well known for delivering conversational yet compelling translations of sociological theory and research. She's the author of the best-selling textbook?Gender: Ideas, Interactions, Institutions?and?American Hookup, the definitive account of the new culture of sex on campus.
Praise For…
---
Today's crucial book for your teen's library…as relevant for high schoolers as for college students.
— Peggy Orenstein, author of Girls & Sex

A myth-busting, eye-popping, and important work of social research. Lisa Wade spent years observing hookup culture on college campuses across the United States and analyzing all the good data available. The result is the best book about sex on campus, bar none.
— Eric Klinenberg, author of Going Solo and coauthor of the New York Times bestseller Modern Romance

Intelligent, sympathetic, and unflinching.
— Cordelia Fine, author of Delusions of Gender and Testosterone Rex

Lisa Wade pulls back the curtain on campus culture and reveals the tableau of racial, class, and gender inequality on which the not-really-so-pervasive phenomenon of student hookups is playing out. If you want to understand what is happening on campus today, this book is not only excellent; it's necessary.
— Michael Kimmel, SUNY Distinguished Professor of Sociology and Gender Studies at Stony Brook University and author of Guyland

An urgently needed and well-researched front-line report on 'hookup culture.'…This book is a welcome wake-up call to the nation.
— Arlie Hochschild, author of Strangers in their Own Land

Lisa Wade investigates the biggest misconceptions about casual sex on college campuses—and tries to reach an understanding that more accurately reflects realities about gender, race, and class.
— Suzanne Weiss - Broadly

[American Hookup] conveys exceptionally well the perverse callousness of hookup culture.

— Jennifer Senior - New York Times

Wade invites us to consider the nuances of hookup culture that have formerly been overlooked or oversimplified, and the result is powerful.
— Charlotte Lieberman - Guernica

An extraordinary window into today's hookup culture among young people. In its pages, you will find incredible insights tying together the history of college campuses, human brain development, and cultural shifts on gender norms to explain how young people conduct their sexual relationships. Working with young people myself, I see what Lisa Wade describes every day. This is an extraordinary and important book.
— Rosalind Wiseman, author of Queen Bees and Wannabees

One of the more thoughtful books about the sexual lives of young people in the US today.
— Metapsychology
ABC Catalog