You are here
Back to top
Cosori Pressure Cooker Cookbook: The Complete Cosori Pressure Cooker recipe book (Paperback)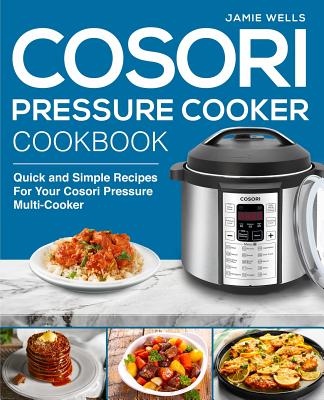 Description
---
The amazing Cosori Pressure Cooker is on every cook's wish list
Now you can enjoy this modern device, and prepare quick and enjoyable meals If, like many, you've looked at the Cosori Pressure cooker and thought it was just another pressure cooker that would gather dust in your kitchen, think again. With this new cookbook, Cosori Pressure Cooker cookbook: The Complete Cosori Pressure Cooker Cookbook - Quick and Simple Recipes For Your Cosori Pressure cooker, you will drastically reduce the time you are spending in your kitchen and still serve delicious food for your family. You will find the following categories in this Cosori Pressure Cooker cookbook:
Breakfast
Salads and Smoothies
Soups and Stews
Chicken
Seafood Dishes
Meat Dishes
Desserts
And many more...
Complete with a wide variety of healthy vegetarian and vegetable meals, as well as meat, beans and eggs. This is cookbook that you will never get tired of turning to when you are want something easy and tasty for dinner.
Start making the most of your Cosori Pressure Cooker and prepare exciting meals