You are here
Back to top
The Edible Garden: How to Have Your Garden and Eat It Too (Paperback)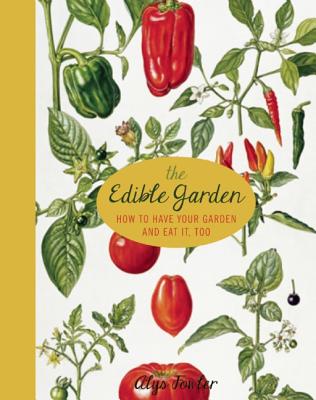 Description
---
In this timely new book BBC star and Gardening World's thrifty and resourceful Alys Fowler shows that there is a way to take the good life and re-fashion it to fit in with life in the city. Abandoning the limitations of traditional gardening methods she has created a beautifully productive garden where tomatoes sit happily next to roses carrots are woven between the lavenders and potatoes grow in pots on the patio. And all of this is produced in a way that mimics natural systems producing delicious homegrown food for her table. And she shares her favorite recipes for the hearty dishes pickles and jams she makes to use up her bountiful harvest proving that no-one need go hungry on her grow-your-own regime. Good for the pocket good for the environment and hugely rewarding for the soul The Edible Garden urges urbanites everywhere to chuck out the old gardening rules and create their own haven that's as good to look at as it is to eat.
About the Author
---
Royal Horticultural Society trained Alys Fowler has made fast progress from her studies at The New Botanical Gardens and the Royal Botanic Gardens Kew to become the head gardener for "Gardener's World," an author and a TV presenter. She also hosts "The Edible Garden" on BBC 2 where she attempts to avoid shop bought fruit and vegetables and live off her own home-grown produce.

Fowler is a gardener who loves food. She has an urban back garden with two chickens, lots of flowers and plenty of vegetables and is author of several books and writes a weekly column on gardening for the "Guardian." Ask her your gardening questions by emailing askalys@guardian.uk.
Praise For…
---
"Anyone who likes to get their hands dirty will love The Edible Garden: How to Have Your Garden and Eat It, Too. A master gardener who specializes in edible landscaping, Fowler (who has her own show in the U.K.) not only gives directions on how to grow vegetables, herbs, and edible flowers, but she also presents truly useful garden plans, and as the title suggests, drool-worthy recipes for what to do with the harvest."
BUST

"An amazing, beautiful book! It is a guide for anyone that wants to create and edible garden in any space they habitat."
Eco Child's Play

"This guide will show you everything you need to know to become a self-sufficient gardener."
Planet Weidknecht

"If you have a gardener on your holiday gift list, I would highly recommend Edible Garden. It makes for a great way to keep a little of spring and summer in your winter."
Crafty Mama

I am smitten with Alys Fowler! The Edible Garden is divided into sections: Things To Know, Things To Grow, and Reaping Your Harvest. This includes information on seed saving, foraging, recipes, and food preservation methods. It's a fine addition to your garden book collection, with lovely images to be savoured during the cold winter months while you plot and scheme your spring garden plans."
The Empress of Dirt

"Expert gardener and BBC television celebrity Alys Fowler presents The Edible Garden: How to Have Your Garden and Eat It, Too, a practical-minded guide to gardening, pickling, and preserving one's own vegetables, as well as brewing teas and being a responsible steward of the environment. Colorful photography intersperses the accessible, user-friendly instructions and wealth of tips, tricks, and techniques. Highly recommended for any gardener who wishes to truly savor the fruits (and veggies) of their labor!"
Midwest Book Reviews

"No gardener has room for it all, but author Alys Fowler intentionally breaks the rules to show how you can have your garden and eat it, too," in her new book, The Edible Garden."
HomegrownIowan

"A great gift for up and coming gardeners."
The Blogging Nurseryman

"Pretty to look at, fun to read, and full of answers and advice for beginners and for experienced gardeners wishing to spread their wings and try something new."
Anna Jedrziewski, Retailing Insight