You are here
Back to top
Code Check Electrical: An Illustrated Guide to Wiring a Safe House (Spiral)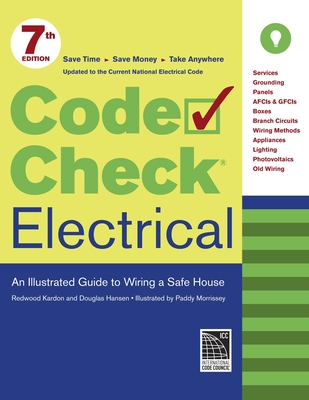 Description
---
Get an insider's view on the latest electrical codes--from the top resource used by electricians, contractors, and inspectors across the country. Whether you're renovating your home, selling it, or buying a new one, staying up on the latest electrical codes is critical business. What you don't know can compromise your safety and potentially cost you a bundle in violations. Code Check Electrical is your go-to reference for everything you need to know to avoid the most common electrical violations while stressing the central safety principles behind the National Electrical Code.
The latest information at your fingertips keeps you up to code. This revised edition has been completely updated to the 2014 National Electrical Code and the 2012 International Residential Code. Spiral bound with durable, laminated pages that can be referenced quickly on-site, this reliable resource clearly details how to:
Meet the highest safety standards while drastically reducing code violation callbacks
Stay on top of every type of residential electrical system by knowing the most up-to-date information on grounding, bonding, service panels, branch circuits, GFCIs and AFCIs, switches, receptacles, and more
Deal with old wiring and bring it up to code
Troubleshoot electrical issues related to appliances, lighting, and other household items
About the Author
---
Redwood Kardon, who devised and wrote the first "Code Check," is a former electrician and building inspector for the city of Oakland, CA. Coauthor Douglas Hansen is a general contractor and certified combination inspector with over 30 years of field experience. Both authors present seminars and classes nationwide on a wide variety of building topics. Paddy Morrissey, former senior illustrator of CornerHardware.com, has been the sole illustrator for the "Code Check" series since its inception.