You are here
Back to top
Designs for Living and Learning: Transforming Early Childhood Environments (Paperback)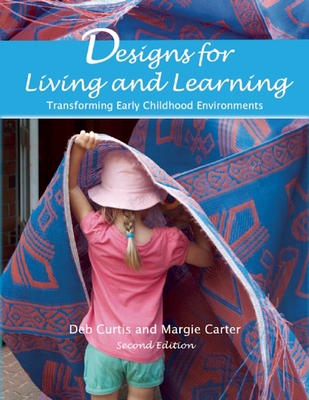 $44.95
Description
---
You likely have dreams for your early childhood environment that are greater than rating scales, regulations, and room arrangements. Designs for Living and Learning has been a favorite resource among educators and caregivers for more than a decade, and this new edition is packed with even more ideas that can be used as you create captivating environments that nurture children, families, and staff while supporting children's learning. With hundreds of all-new colorful photographs of real early learning settings and a multitude of simple and practical concepts for creative indoor and outdoor spaces and learning materials, this book truly is a source of inspiration as you learn how to shape welcoming spaces where children can learn and grow.
Expanded chapters include new information reflecting current trends and concerns in early childhood, such as the use of repurposed and nontraditional materials, children in the outdoors, alternative ways to think about providing for learning outcomes, facing and overcoming barriers and negotiating change, and the impact of environmental rating scales in Quality Rating and Improvement Systems (QRIS). Two new chapters are included, one highlighting the transformations of environments with before and after photos and outlines of the process, and the other with examples of soliciting children's ideas about the environment.
Deb Curtis and Margie Carter are internationally acclaimed experts in early childhood. They host three-day institutes and professional development seminars for early childhood professionals; consult with early childhood programs across North America, Australia, and New Zealand; and have written many books together.

About the Author
---
Deb Curtis: Deb Curtis has spent the past 35 years working with children and teachers in early childhood programs, observing and studying children and the teaching and learning process. Along with teaching children, Deb has worked with early childhood educators in college settings, seminars, and institutes all over North America, New Zealand, and Australia. She has been working as a toddler teacher for the past five years and is the coauthor of eight books related to working with young children. Deb holds a master's degree in human development from Pacific Oaks College. Margie Carter: Margie Carter has worked in the early childhood field as a teacher, director, college instructor, coach, and consultant for nearly 50 years. She has coauthored eight books and traveled across the United States, Canada, Europe, Australia, and New Zealand to present to early childhood professionals. Margie's work challenges early childhood educators and caregivers to expand their thinking about what children, families, and staff deserve in programs. She works to ensure that all quality enhancement efforts are focused on reflection, not just compliance. Margie holds a master's degree in human development from Pacific Oaks College.