You are here
Back to top
How to Build, Maintain, and Use a Compost System: Secrets and Techniques You Need to Know to Grow the Best Vegetables (Back to Basics Growing) (Paperback)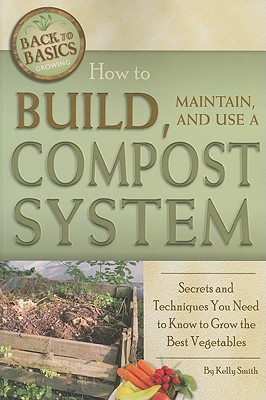 Description
---
Some of the best fertilizer on the planet can be made with your very own garbage. Starting with something as simple as coffee grounds a top composting product and including all of your old banana peels, bread crusts, and leftover meals, you can start creating a garden with your food waste from scratch, using the age old secret of composting to build a healthy, happy garden. Knowing the necessary steps to building and cultivating a compost bin will help anyone with a garden no matter its size cut down on waste, save money on fertilizer, and have fun learning more about the cycle all biodegradable matter goes through.
This book provides a detailed outline of how anyone with a little extra space and a garden can start composting today to build their garden from scratch into a thriving jungle of roots, herbs, and vegetables. You will learn about all of the different ways that composting can be helpful to you, as well as the different reasons why people choose to compost and what you and your vegetables might best benefit from when you decide to make the leap and start composting yourself. You will learn how decomposition works and what the ideal conditions are for decomposition. You will learn which compostable materials are around you right now, from the coffee grounds in your coffee maker to the old fruit in your crisper. Learn about the different kinds of activators and how they get the process started as well as the different composting materials used by home gardeners and professional composters alike dozens of which have been interviewed for this book.
You will be walked through the process of recognizing and using the end product as effectively as possible. You will be walked through how you can effectively take your end product and start using it for various different vegetable types in your garden. Finally, you will be walked through the process of recognizing and using the end product as effectively as possible. For anyone who has ever considered composting as a viable means by which to feed their gardens, this book is for you.
Atlantic Publishing is a small, independent publishing company based in Ocala, Florida. Founded over twenty years ago in the company president's garage, Atlantic Publishing has grown to become a renowned resource for non-fiction books. Today, over 450 titles are in print covering subjects such as small business, healthy living, management, finance, careers, and real estate. Atlantic Publishing prides itself on producing award winning, high-quality manuals that give readers up-to-date, pertinent information, real-world examples, and case studies with expert advice. Every book has resources, contact information, and web sites of the products or companies discussed.

About the Author
---
Kelly Smith is an author, quilter, and container gardener. Her previous works include the book Open Your Heart with Quilting (Dreamtime, 2008), the magazine article Let s Play in Quilters Home magazine (Nov./Dec. 2008), and several quilt patterns for QuiltingWeekly.com. She is also the National Quilting Examiner for Examiner.com and writes about news and events of interest to quilters. In addition to non-fiction writing, Kelly writes short stories and novels, and maintains a blog at www.redheadedquilter.com. You can follow her on Twitter at www.twitter.com/quiltinredhead."