You are here
Back to top
Code Check: 7th Edition (Code Check: An Illustrated Guide to Building a Safe House) (Spiral)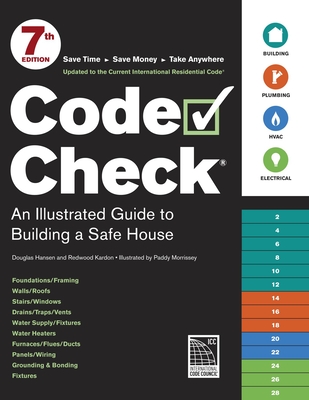 Description
---
Now you can gain access to the most up-to-date changes in the 2009 International Residential Code with the newly revised sixth edition of Code Check: An Illustrated Guide to Building a Safe House.
For those building a home--a safe home--knowing the latest codes is essential. Code Check, an invaluable resource now in its seventh edition, gives builders, remodelers, and inspectors everything they need to know to avoid common code violations and ultimately save time and money. Using clear language and helpful diagrams, Code Check reflects the most up-to-date changes in the 2012 International Residential Code. It also cross-references the Uniform Plumbing Code, Uniform Mechanical Code, and the National Electrical Code to arm readers with the most precise information to date. With an emphasis on central safety principles that underlie building codes throughout the U.S., Code Check gets high grades for its accuracy, relevancy, and ease of us
About the Author
---
Redwood Kardon, who devised and wrote the first "Code Check," is a former electrician and building inspector for the city of Oakland, California. Co-author Douglas Hansen is a general contractor and certified combination inspector with over 30 years of field experience. Both authors present seminars and classes nationwide on a wide variety of building topics. Hansen lives in California. Kardon lives in Pennsylvania.