You are here
Back to top
The Book of Runes: Interpreting the Ancient Stones (Paperback)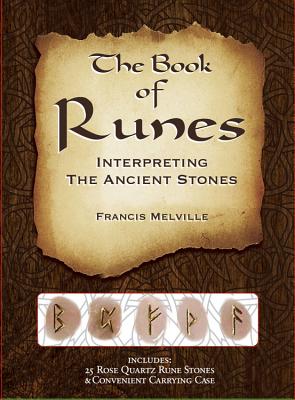 Description
---
Uncover the mysterious powers of the runic alphabet with The Book of Runes.

The history of the runes is mysterious. According to Norse mythology, Odin, the chief of the gods, sacrificed himself for nine days and nights in order to receive cosmic wisdom, which was granted to him in the form of the runes. These runes make up an alphabet that was used across most of northern Europe from pre-Christian times until the thirteenth century.

Complete with 25 runes, a drawstring pouch, and a 120-page book, The Book of Runes explains the meanings of the runes and the Norse mythology that underpins their basic concepts. Discover the powers these symbols contain by creating your own rune stones and using them for divination and other magical purposes, from making talismans to petitioning the Norse gods.
 
About the Author
---
Francis Melville has researched widely to gather his resources for this book. A student of theology, he now lives in Devon, England, where he runs a charitable foundation dedicated to research into Spagyrics--alchemical medicine. He has written for publications as diverse as The Times of London and The Fortean Times, presented a television documentary, and edited a major survey of spiritual lore. He is also the author of Love Potions and Charms, The Book of Angels, and The Secrets of High Magic, all published in North America by Barron's.