You are here
Back to top
Ancient Egyptian Book of the Dead: Prayers, Incantations, and Other Texts from the Book of the Dead (Hardcover)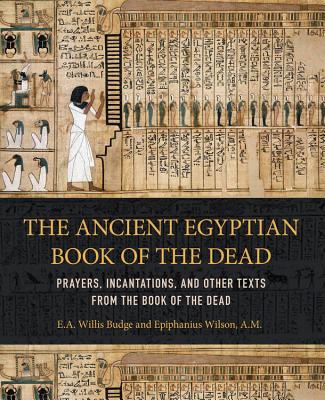 Description
---
Presented in easy-to-understand sections, with this book you will discover the magic of ancient Egypt in this comprehensive translation of the real Egyptian Book of the Dead.
Ancient EgyptianBook of the Dead is a compendium of classic texts by one of the greatest translators and historians of ancient Egypt, as well as one of the most renowned Egyptologists of all time, E.A. Wallis Budge.

In Part I, using plain, simple, easy-to-understand language, Budge delves into the history, instructions, motifs, themes, spells, incantations, and charms written for the dead that ancient Egyptians would need to employ to pass from this world into the next. Throughout centuries, these "books of the dead man" were often found buried alongside mummies and inside tombs, which locals and grave robbers would collect.

In Part II, Budge's classic translation of the Book of the Dead from the Papyrus of Ani (and others) is presented in its original format and contains the prayers, incantations, and ancient text used to help guide the dead during their journey.

Finally, in Part III, a list of Egyptian deities is provided. Illustrated throughout with great care, including photos, fine art, and other illustrations, this edition will bring the historic afterlife guide back to life.
About the Author
---
Sir E. A. Wallis Budge (1857-1934) was a noted English Egyptologist. He worked for the British Museum during the era of Victorian fascination in ancient cultures and wrote numerous books on Egypt, including the important work, The Egyptian Book of the Dead. On behalf of the British Museum, Budge traveled to Egypt and Sudan numerous times to acquire antiquities, many of which continue to reside at the Museum. His acquisitions and writing helped to bring Egyptology to a wider audience, and they continue to resonate today. In 1920, Budge was knighted for his work of bringing Egyptology to the masses, and to the British Museum. He retired from the museum in 1924, and died ten years later. In his will, he established a scholarship for intrepid young minds at both the University of Cambridge and the University of Oxford to continue his work in Egyptology.
Epiphanius Wilson (1845-1916) was a scholar and translator of ancient sacred texts. He translated important literary and philosophical texts from Egypt, Japan, China, Hebrew, Hindu, as well as ancient texts from Babylonian and Assyrian. Many of his more than 30 translations are still in print today.
ABC Catalog