You are here
Back to top
Get Fuzzy 2021 Day-to-Day Calendar (Calendar)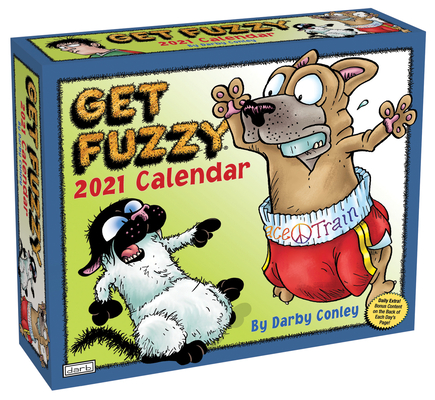 Description
---
Between his filmmaking, his public access TV show, and his wacko inventions, it's surprising that Bucky Katt has time to terrorize housemates Rob and Satchel Pooch, but somehow he manages. He's in full multi-tasking mode in this Get Fuzzy 2021 Day-to-Day Calendar featuring a cartoon on every daily page.
Among all the chaos, he meets his British cousin, creates pop culture mashups, and in addition to wreaking havoc on Rob and Satchel, squeezes in time to pelt the neighborhood's vicious dog with water balloons. It's a lesson in time management.
Other features include:
Full color tear-off pages 
Daily Extra on the back of each page—fun puzzles, trivia, activities, and more
Day/date reference on each page
Includes official major world holidays
Recyclable plastic easel backer for desk or tabletop display
About the Author
---
Get Fuzzy first appeared in newspapers in 1999. Darby Conley lives in Boston, with four cats and three boxes of Band-Aids.
ABC Catalog