You are here
Back to top
Juniper: The Happiest Fox (Hardcover)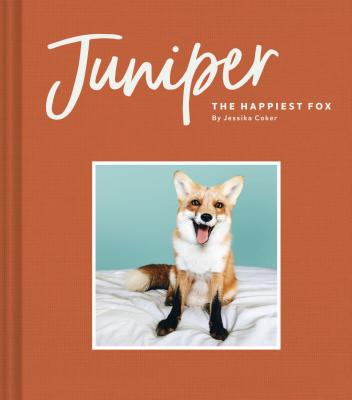 $16.95
Usually Ships in 1-5 Days
Description
---
"Beautiful photographs of a pampered pet fox — an amazing tale." —Books Monthly

A heartwarming book about a happy-go-lucky fox named Juniper: Juniper's adorable snaggletooth smile and fun-loving personality are vibrantly captured in this heartwarming book. Juniper's story chronicles her adoption and real-life Fox and the Hound relationship with a dog named Moose, as well as the hilarious shenanigans she regularly gets herself into—including adapting to her new companion Fig, a younger fox who was rescued from a fur farm.

• Features a charming narrative about Juniper's life and how she ended up as an Instagram-famous house pet
• With gorgeous photos and a behind-the-scenes look at what it's like to live with a fox, this book will capture the heart of any animal lover
• Readers will also get a look at the thing Juniper is best known for: she paints with her paws! Juniper's paw paintings sell out instantly on her website, and readers will delight in learning more about her artistic adventures

With millions of followers on Instagram, Juniper the fox is the internet's cutest pet and readers will love the magic that has captured within the pages of Juniper: The Happiest Fox!

A 2019 YALSA Quick Pick for Reluctant Young Adult Readers

• Jessika Coker is an artist, entrepreneur, and the owner of Juniper. She handles all of Juniper's social media @juniperfoxx and is currently starting an animal sanctuary in the south
• Juniper is a mixed media artist and a fox, who resides in the South with her human mom, Jessika, and several other animal friends
• Makes an excellent and unique gift for friends and loved ones that are animal lovers
About the Author
---
Jessika Coker is an artist, entrepreneur, and the owner of Juniper. She handles all of Juniper's social media, and is currently starting an animal sanctuary in the south.

Juniper is a mixed media artist and a fox, who resides in the South with her human mom, Jessika, and several other animal friends.
Praise For…
---
"Beautiful photographs of a pampered pet fox - an amazing tale."
-
Books Monthly
—
-
A 2019 YALSA Quick Pick for Reluctant Young Adult Readers
—
-
ABC Catalog