You are here
Back to top
How to Grow Your Own Tobacco from Seed to Smoke (Hardcover)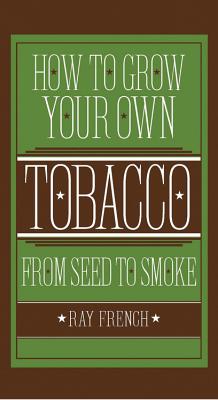 Description
---
How to Grow Your Own Tobacco From Seed to Smoke covers everything you need to know to plant, harvest, and cure your own tobacco including troubleshooting for pests and diseases. How do I get seeds started? What is the perfect container for growing tobacco in? How do I harvest and dry the plants to smoke once they've matured?
There is no stone left unturned in this DIY book about growing and smoking your own tobacco. The interesting processes involved are thoroughly covered, and author Ray French doesn't leave anything out. There are directions for every stage of the process, including planting seeds to harvesting and drying the tobacco plant for smoke.
Author and horticulturist Ray French summarizes the history of growing tobacco and then explains how age-old growing practices have now become a part of the easy, sustainable, organic methods for the home gardener. Not only is the entire process of tobacco growing and smoking included, How to Grow Your Own Tobacco From Seed to Smoke includes the history of tobacco farming and harvesting. Ray also includes information on varieties and grades of tobacco, seed starting techniques, and suggestions for growing in the ground or in containers, all in this handy guide.
About the Author
---
With a strong history of large scale farming on both sides of the family, Ray French graduated with a degree in Agriculture specializing in Nursery Crop Production and Botany from Auburn University. Upon graduation, Ray ran some of the largest commercial growers in the country. He is now a consultant for a large home improvement retailer and travels all over the world in search of new plants. Once the potential plants are discovered, he works with growers to produce them and the retailer to market them. Ray has been an integral part of introducing many of the most popular plants in the market today such as the Knockout Rose, Encore Azaleas, and SunPatiens.