You are here
Back to top
DK Eyewitness Books: Pirate: Discover the Pirates Who Terrorized the Seas from the Mediterranean to the Caribbean (Hardcover)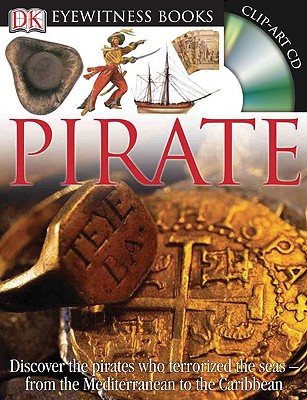 Description
---
Take a close-up look at the colorful--and cruel--robbers of the sea. 

Sink into this exciting introduction to the world of sea-thieves – their origins, adventures and blood-thirsty battles. Learn who devised the terrifying Jolly Roger, how a surprisingly disciplined life was maintained aboard pirate ships, and what cunning ruses pirates used to lure merchants to their doom.  Everything you ever wanted to know from why European kings and queens encouraged piracy to what pirates ate at sea.

Great for projects or just for fun, this fact-packed guide shows and tells you everything you need to know about pirates.
About the Author
---
Richard Platt began writing in 1983, and has since published more than 100 books specializing in children's nonfiction. His books have won the silver Nestlé Smarties Book Prize and have been shortlisted for the Royal Society Science Book Prize. He is the author of Eyewitness: Film, Castle Diary: The Journal of Tobias Burgess, and Eyewitness: Pirate, among others, and is the coauthor, with Stephen Biesty, of Stephen Biesty's Incredible Cross-Sections.