You are here
Back to top
Brains On! Presents...It's Alive: From Neurons and Narwhals to the Fungus Among Us (Hardcover)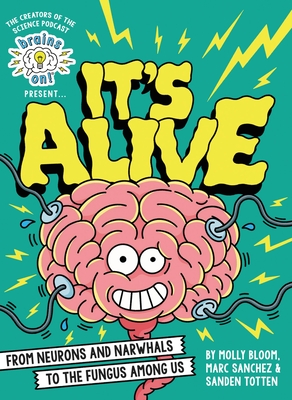 $18.99
Usually Ships in 1-5 Days
Description
---
The creators of the award-winning science podcast for kids, Brains On!, present a humorous, fact- and fun-filled look at life on Earth -- from deep sea creatures and carnivorous plants to the human body and stinky bacteria. Perfect for STEM collections!
Did you ever wonder why jellyfish sting? Or if trees communicate with each other? How about why you can't tickle yourself?

Well hold on to your noggins, because you're about to find out!

Join the creators of the award-winning science podcast Brains On! as they explore the uber-awesome and sometimes gross world of biology -- aka the study of living things. Inside these pages, you'll meet animals with superpowers, plants that eat meat, brains that trick you, and tiny microbes that live, well . . . all over you!

Packed with mind-boggling facts and laugh-out-loud jokes, this book promises a brain-bending, jaw-dropping, belly-laughing good time as readers watch the world around them come ALIVE.


About the Author
---
Molly Bloom, Marc Sanchez and Sanden Totten are the creators of Brains On! They became friends while working at Minnesota Public Radio and decided to make a show for kids, because kids are awesome. They've had all sorts of jobs in public radio, but making Brains On! is their favorite. In their free time, they attend punk shows, run half marathons, and make swiss meringue buttercream (but you'll have to guess who does which activity).
Praise For…
---
"A grab bag of bio-wonders."
Kirkus Reviews
"This eye-catching and engaging offering will perk up STEMM (science, technology, engineering, math, medicine) collections and will appeal to browsers and researchers alike."
Booklist
"Science and humor come together to create a title that will be picked up again and again."
School Library Journal
ABC Catalog