You are here
Back to top
A Planet of Viruses: Second Edition (Paperback)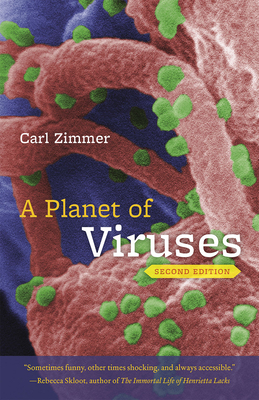 $13.00
Usually Ships in 1-5 Days
Description
---
The past year has been one of viral panic—panic about viruses, that is. Through headlines, public health warnings, and at least one homemade hazmat suit, we were reminded of the powerful force of viruses. They are the smallest living things known to science, yet they can hold the entire planet in their sway.
A Planet of Viruses is Carl Zimmer's eye-opening look at the hidden world of viruses. Zimmer, the popular science writer and author of National Geographic's award-winning blog The Loom, has updated this edition to include the stories of new outbreaks, such as Ebola, MERS, and chikungunya virus; new scientific discoveries, such as a hundred-million-year-old virus that infected the common ancestor of armadillos, elephants, and humans; and new findings that show why climate change may lead to even deadlier outbreaks. Zimmer's lucid explanations and fascinating stories demonstrate how deeply humans and viruses are intertwined. Viruses helped give rise to the first life-forms, are responsible for many of our most devastating diseases, and will continue to control our fate for centuries. Thoroughly readable, and as reassuring as it is frightening, A Planet of Viruses is a fascinating tour of a formidable hidden world.
About the Author
---
Carl Zimmer is a columnist for the New York Times, writes for National Geographic and other magazines, and is the author of thirteen books, including Parasite Rex, Soul Made Flesh, and Microcosm. He is also a lecturer at Yale University, where he teaches writing about science and the environment.
Praise For…
---
"A brief, highly accessible introduction to viruses and their impact on the world. . . . Highly recommended."
— Choice
A Choice Outstanding Academic Title for 2016
— Choice
"Just about everything you've always wanted to know—and a lot you'll probably wish you didn't know—about the viruses that have caused humanity so much grief throughout history."
— Praise for the first edition
"In A Planet of Viruses, science writer Carl Zimmer accomplishes in a mere 100 pages what other authors struggle to do in 500: He reshapes our understanding of the hidden realities at the core of everyday existence. . . . Whether he's exploring how viruses come to America or picking apart the surprisingly complicated common cold, Zimmer's train of thought is concise and illuminating."
— Praise for the first edition
 "Absolutely top-drawer popular science writing. . . . Zimmer's information-packed, superbly readable look at virological knowledge awakens readers to the fact that not only are viruses everywhere but we couldn't live without them."
— Praise for the first edition
"A smart, beautiful, and somewhat demented book that's likely to give you a case of the willies. In the best way possible."
— Praise for the first edition