You are here
Back to top
Judicial Disqualifiation: An Analysis of Federal Law: An Analysis of Federal Law (Paperback)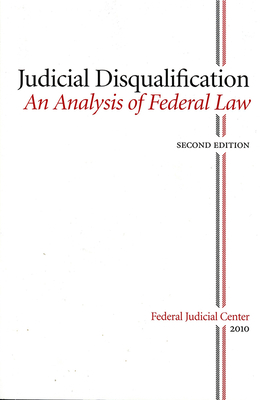 Description
---
The second edition of this work provides an overview of the history of judicial disqualification.   It substantially revises and expands on the first edition, and analyzes the case law, both with a focus on substantive disqualification, and procedural requirements. Featured are updated cases of applicable statutory law, a revised organizational structure and new material.
The ethical dimension is governed by Cannon 3C of the Code of Conduct for U.S. Judges.  On the other hand, the procedural dimension is governed by four sections in Title 28 of the United States Code (USC/U.S. Code).
Related products:
U.S. Code series
can be found here:
https://bookstore.gpo.gov/catalog/united-states-code
Ethics & Code of Conduct collection
is available here:
https://bookstore.gpo.gov/catalog/ethics-code-conduct
More products produced by the
Judicial Branch & Federal Courts
can be found here:
https://bookstore.gpo.gov/agency/judicial-branch-federal-courts
About the Author
---
ABOUT THE AUTHOR/AGENCY:


About the Federal Judicial Center The Federal Judicial Center is the research and education agency of the federal judicial system. It was established by Congress in 1967 (28 U.S.C. §§ 620–629), on the recommendation of the Judicial Conference of the United States.

By statute, the Chief Justice of the United States chairs the Center's Board, which also includes the director of the Administrative Office of the U.S. Courts and seven judges elected by the Judicial Conference.

The organization of the Center reflects its primary statutory mandates. The Education Division plans and produces education and training programs for judges and court staff, including satellite broadcasts, video programs, publications, curriculum packages for incourt training, and Web-based programs and resources. The Research Division examines and evaluates current and alternative federal court practices and policies. This research assists Judicial Conference committees, who request most Center research, in developing policy recommendations. The Center's research also contributes substantially to its educational programs. The two divisions work closely with two units of the Director's Office—the Systems Innovations & Development Office and Communications Policy & Design Office—in using print, broadcast, and online media to deliver education and training and to disseminate the results of Center research. The Federal Judicial History Office helps courts and others study and preserve federal judicial history. The International Judicial Relations Office provides information to judicial and legal officials from foreign countries and assesses how to inform federal judicial personnel of developments in international law and other court systems that may affect their work.