You are here
Back to top
Decoding the Universe: How the New Science of Information Is Explaining Everythingin the Cosmos, fromOu r Brains to Black Holes (Paperback)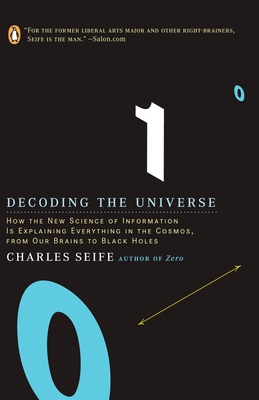 $17.00
Description
---
The author of Zero explains the scientific revolution that is transforming the way we understand our world
Previously the domain of philosophers and linguists, information theory has now moved beyond the province of code breakers to become the crucial science of our time. In Decoding the Universe, Charles Seife draws on his gift for making cutting-edge science accessible to explain how this new tool is deciphering everything from the purpose of our DNA to the parallel universes of our Byzantine cosmos. The result is an exhilarating adventure that deftly combines cryptology, physics, biology, and mathematics to cast light on the new understanding of the laws that govern life and the universe.


About the Author
---
Charles Seife is the author of five previous books, including
Proofiness
and
Zero,
which won the PEN/Martha Albrand Award for first nonfiction and was a
New York Times
notable book. He has written for a wide variety of publications, including
The New York Times, Wired, New Scientist, Science, Scientific American,
and
The Economist
. He is a professor of journalism at New York University and lives in New York City.